BOOKS (read testimonies below) AND DANCE WORKSHOP INFORMATION:
Go to https://www.amazon.com/author/denisecookgodfrey for information on books. Books are available in paperback and Kindle format. SEE ALSO BELOW
You may also receive a copy of the books by clicking on the "buy now" button to the right.
WORSHIPPING GOD, SERVING GOD: THE MARY-MARTHA SYNDROME BOOK AND BIBLE STUDY GUIDE: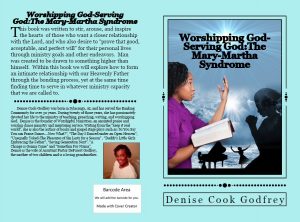 SO YOU SAY YOU CAN PRAISE DANCE……..NOW WHAT?

THE DAY I DANCED UNDER AN OPEN HEAVEN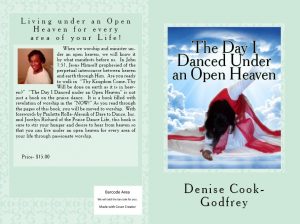 UNEQUALLY YOKED-THE PLEASURES OF SIN LASTS FOR A SEASON

UNEQUALLY YOKED-REAPING THE HARVEST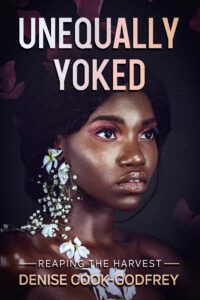 WITH GROANINGS NOT UTTERED-MOVEMENT THAT GIVE BIRTH

THE WORSHIPFUL YOUTH DANCER, A LYRICAL DANCE MINISTRY BASICS, AND THE DAILY SLICE DEVOTIONAL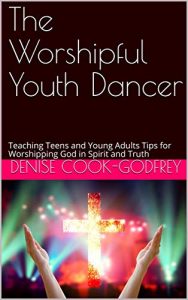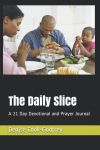 Dance Workshops (read the testimonies below)
SO YOU SAY YOU FEEL THE PULL TO PRAISE DANCE…NOW WHAT?
"Does your baby leap on the inside whenever you experience someone else's dance ministry presentations? Do you feel the call but need help getting started?
I can help you. Enroll in the "Liturgical Dance Ministry Basics" E-course today!
The six-week course offers both theory and movement vocabulary development! It is self-paced with the option of one-on-one consultation with the Instructor via an online platform. Plus there are opportunities for other live discussions with other dancers via ZOOM and or FaceBook Live!
Here is what you will get:
Biblical Foundation for Dance
Basic technical movement ideas to build dance language
Choreography Tips
Administrative advice for the Dance Ministry Coordinator
What are you waiting on? Advance…move forward…click the link below and get started today!
WORKSHOPS
The ministry is currently offering praise and worship dance mentoring through workshops! Workshops consist of liturgical dance through expressions and creative signing, mime, dance choreography, basic technique skills, and the biblical foundation for dance from the Word of God. To book a workshop or mentoring session, email dcookgodfrey@gmail.comor on Facebook at Denise Cook Godfrey.
ONLINE DRAMA AND WRITING COURSES-
If you are interested in learning to write and direct your own Gospel Stage Plays, go to the page for "Online Drama Course" or contact Denise at dcookgodfrey@gmail.com for details on signing up!
Contact Minister Godfrey at denise@worshipfulministries.com to book speaking or preaching engagements for Women's Conferences or any other spiritual event. Also, contact her for information on Gospel Stage Plays.
**Please also consider donating a contribution to assist the ministry. Please be assured that your gift of love is sown in good ground. May God bless you! Click on the "donate" button to the right.
Here are testimonies we'd like to share with you:
"I gained several things from the worship dance mentoring through Minister Denise Cook-Godfrey. Some came from one-on-one teaching, some from just being in her presence and experiencing her worship in dance, some from listening and seeing her operate and minister through the spoken word: Just a few things I experienced. .. 1. It's possible to dance with technique and still be anointed. 2. It's ok to want to perfect your gifts and talents. 3. You are to operate in the spirit with dance (prophetic, war cry, worship, praise, etc) just as you do any other spiritual gift. 4. Your level of intimacy in your relationship with God flows over into your dance ministry…Having a heart for the people and particularly the younger generation, Minister Denise wants to develop the people spiritually and physically to be the best at who and what God has called them to be. It's all about love and service to God.
The dance worship mentoring is very much recommended and I learned things I can incorporate into my own ministry as well as the children's dance ministry."
LaShayla Cochran, Dance Coordinator for Freewill Worship Center, Goodwater, AL
"I recently got to see Denise present a piece that was self-choreographed to "Alabaster Box". She was able to take me as well as the others watching her, through space and time and use dance as an act of testimony and deliverance. I told God, what a wonderful thing He had done through her and then told her myself afterward. It's always an honor and a treat to see a dance daughter, such as Denise, branch out on their own and carry the torch of dance ministry to touch others and cause a ripple effect in the Kingdom of God!"
Minister Jeanna Sumners
"Disciples of the Dance" – Author (Book)
Dance and Performing Arts Co. – Assistant Director
www.itsmyo.blogspot.com
www.dancediscipledevotionals.blogspot.com
Facebook: Disciples of the Dance
"My experiences under Sister Denise's mentoring classes were amazing!  I was so nervous and scared in the beginning.  She made me feel so calm and at ease.  She showed patience.  Her dedication to God also leaked out into her dedication to me.  I learned a lot from her.  Sister Denise is a great Teacher and Woman of God!"
Bridgette Truss
Books:
"The Day I Danced Under an Open Heaven" is easily one of the most NEEDED, penned works in the industry of the worship arts. As I read the manuscript, I was moved to worship. If you are ready for "on earth as it is in heaven"; for heaven to kiss the earth in your life; apply the principles mentioned in this book and begin your journey to an earth-shattering, 1 Kings 18:36-39 kind of worship." Paulette Rolle-Alesnik of "Dare to Dance Inc." Author-"Dare to Dance"
"In a day and time when people are searching for something higher than themselves in order to have a better quality of life, "Worshipping God-Serving God" is that something! It is in worship that we bond and have intimacy with God. Our worship has an effect on our serving! Mary could get to what Martha was doing (serving), but Martha could not get to what Mary was doing (worshipping). This book shows us the dynamics and power of our worship and serving. DeForest Godfrey, Assistant Pastor, New Beginning Ministries
In "So you say you can praise dance "My friend Minister Denise Cook Godfrey guides the reader through the foundations of effective dance ministry leadership. I love how she teaches in the text that the praise dancer must begin with a personal relationship with Jesus, private prayer, and private worship. Then the dancer graduates to public dance ministry.
Jocelyn Richard
Author "Phenomenal Choreography For Worship"
Dance Minister, Speaker, and Ministry Success Coach www.thepraisedancelife.com
This review is from

Unequally Yoked: The Pleasures of Sin lasts for a Season (Paperback)
"I totally fell in love with this book! It wasn't what I expected….it was better. From the intro to the very end. Amazing. Such a blessing. I loved the story, but I loved, loved, loved when the story ended. How this author goes back to dissect the story…to make u think. I pondered a lot about my own life. My own "reaping seasons", & I without a doubt could see where GOD was always right there with me. Extending His GRACE & mercy although I wasn't worthy. A lot of our wounds are self-inflicted BUT GOD loves us so much that He still places His hedge of protection around us. THANK U! WOMAN OF GOD for shining a light on something so dark! GOD BLESS U!!!!!"
"Drama in the Church? (Tips for Writing and Directing Your own Gospel Stage Play)"
I took this course!! Awesome workshop…really good content by Denise Cook-Godfrey!! I wish I had taken it before I performed my first stage play. I definitely will use it to help guide me next time!! Thanks, Denise!
Beverly Powell
[contact-form][contact-field label='Name' type='name' required='1'/][contact-field label='Email' type='email' required='1'/][contact-field label='Website' type='url'/][contact-field label='Comment' type='textarea' required='1'/][/contact-form]
More Novels