Read below the "Prologue" for, "Unequally Yoked-The Pleasures of Sin lasts for a Season"- It is pasted below!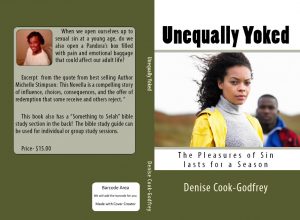 PROLOGUE
It was the middle of June and seemingly the perfect weather and season for a wedding.  Hot, yet, somewhat breezy with the smell of fresh flowers and fresh mowed lawns.  Everyone was filled with excitement as people from all walks of life flooded the small country church in great anticipation for what was soon to take place.  It was Christine's wedding day.  After waiting so long and after much debate, she was finally marrying one of the most eligible Christian bachelors that a woman could marry.  Well liked in the small community the couple lived in, Aldridge, was a genuine man of God.
He came from a long line of preacher men, as Christine's grandmother called them.
"Hold that preacher. Grab him and don't let go of him."  Christine could hear those words that Grandma Ruth used to recite.
Also, some of the older mothers of her home church would practically idolize the preacher.  These women had some sort of notion that if you went out of your way to accommodate a preacher, then you had special favor with God.  Now Christine was about to marry one, so you can imagine how all the older women felt.
"Marry that preacher man, and you set yourself up for life. Don't ever let him go." Ah, yeah! If Grandma Ruth were alive today, she'd cut her a step across the church for sure today.
Christine, with her marred past, had managed to get her life together, or so it seemed.  Christine still endured emotional struggles.  For one, the residue dangling from her past before meeting Aldridge.  Her appetite for acceptance and identity flawed her ability to choose wisely in the arena of finances and men.  She held onto low self-esteem, even though she was one of the most beautiful young women in the church.  She had a difficult time accepting gifts and encouragement. She didn't have a connection with her family, and most of all, didn't seem to find real satisfaction in her ministry work for the church.  The more she worked, the more down and out she'd become.
Christine suffered from depression. At times she'd cover up her pain by involving herself in relationships with men who were not right for her; even after meeting Aldridge.  After all, by her not having that special bond with her father growing up, she didn't know how to distinguish love from sex and had a serious identity problem.  In her past, Christine seemed to connect with the bad boys and not the nerdy guys who attended church.  The ones who were not so nerdy were already taken, or flirted so badly with the women until it became a complete turn off for Christine.  Christine remembered having an affair with a married man during her early twenties before she'd gotten saved, and it ended up in total disaster. She vowed never to involve herself with married men again.
And then she met Aldridge. He was not the type of man that she normally fell for, but for some reason, she did.  The two seemed to hit it off soon after Christine had broken up with one of her flings. She was getting more acquainted with God at this time of her life and becoming more serious about her faith.  Aldridge, of course, was a big help to her in this area.  He had his own hidden baggage and had no idea how to communicate his struggles to Christine. He busied himself with playing the Knight in Shining Armor for Christine.
As time went on, Christine developed a passion for the things of God.  She was fine spiritually, but emotionally she was troubled.  This goes to show that there are many in the church world today who mask their pain. And even though they have truly given their life to Christ, without healing and deliverance in certain areas, they still live poor quality Christian lives.  This is dangerous, because the devil knows how to push certain buttons and attempts to destroy our fellowship with our Heavenly Father.
In the meanwhile, think and ponder on this question:  When one engages in sexual sin at a very early age, can the results that follow open a Pandora's Box of emotional trauma and baggage that can have an erratic effect on our lives even after becoming a Christian?  Let us get to reading.
*order this exciting novella right now by clicking on "buy now" underneath the title of the book on the side of the screen, or if using a cell phone, you may have to scroll to the bottom.
BUT WAIT…AS OF 2020…THE SEQUEL TO THE BOOK IS ALSO AVAILABLE!  ORDER RIGHT FROM THIS SITE OR ON AMAZON…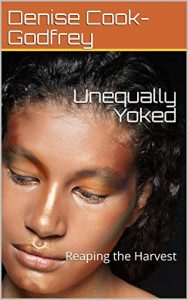 OTHER BOOKS (read testimonies below) AND DANCE WORKSHOP INFORMATION:
Go to https://www.amazon.com/author/denisecookgodfrey for information on books.  Books are available in paperback and Kindle format.  SEE ALSO BELOW
Books are also available at the Spirit Filled Christian Bookstore in Birmingham, AL, 1400 3rd Avenue West!
You may also receive an autographed copy of the books by clicking on the "buy  now" button to the right.  Your autographed book will be mailed to you within 2 weeks.
WORSHIPPING GOD, SERVING GOD:  THE MARY-MARTHA SYNDROME BOOK AND BIBLE STUDY GUIDE:
SO YOU SAY YOU CAN PRAISE DANCE……..NOW WHAT?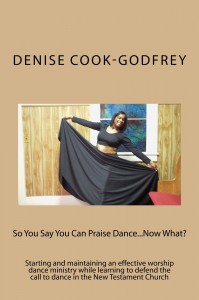 THE DAY I DANCED UNDER AN OPEN HEAVEN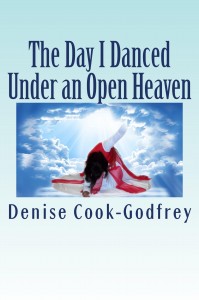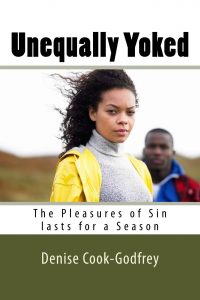 Little Girl Lost, November 26, 2016
This review is from:

Unequally Yoked: The Pleasures of Sin lasts for a Season (Paperback)
Christine Wells, the victim of a loveless home, and the recipient of bullying from her peers, soon finds a relief more beneficial and satisfying than the escape through her mind's fantasies. The novella begins with Christine entering the 9th grade and ends with her being a young woman in her late twenties. Unequally Yoked is told about Christine soothing herself with the boys, then men who'd come into her life to take advantage of what she had to give–her body.
Throughout her life, Christine reminisces about her late grandma's teachings about the Lord. She can also sense a calling from the Spirit to get her life in order, although she attends church faithfully.
The author tells a sensitive story by delving into Christine's family secrets and her desire to eventually become a one man's woman by marrying a preacher. Although the subject is sex, this author tastefully tells this truthful story (most pulpits neglect) in a strategic, yet powerful way.
Dance Workshops (read the testimonies below)
The ministry is currently offering praise and worship dance mentoring through workshops!  Workshops consist of liturgical dance through expressions and creative signing, mime, dance choreography, basic technique skills, and the biblical foundation for dance from the Word of God.  To book a workshop, contact us at mailto:denise@worshipfulministries.com or on facebook at Denise Cook Godfrey.
ONLINE DRAMA COURSE- If you are interested in learning to write and direct your own Gospel Stage Plays, go to the page for "Drama in the Church" for details on signing up!
Deeper Worship Dance Choreography Online Course is available!  If you missed the live sessions, no worries!  You can get the recordings and the course material.  Contact me at via facebook message at Denise Cook Godfrey or leave a reply here!  You may also email me at denise@worshipfulministries.com
Speaking engagements
Contact Minister Godfrey at denise@worshipfulministries.com to book speaking or preaching engagements for Women Conferences or any other spiritual event.  Also, contact her for information on Gospel Stage Plays.
**Please also consider donating a contribution to assist the ministry.  Please be assured that your gift of love is sown in good ground.  May God bless you!  Click on the "donate" button to the right.
Here are testimonies we'd like to share with you:
"I gained several things from the worship dance mentoring through Minister Denise Cook-Godfrey. Some coming from one-on-one teaching,  some from just being in her presence and  experiencing her worship in dance, some from listening and seeing her operate and minister through spoken word:    Just a few things I experienced. .. 1. It's possible to dance with technique and still be anointed.  2. It's ok to want to perfect your gifts and talents. 3. You are to operate in the spirit with dance (prophetic, war cry, worship, praise, etc) just as you do any other spiritual gift. 4. Your level of intimacy in relationship with God flows over into your dance ministry…Having a heart for the people and particularly the younger generation,  Minister Denise wants to develop the people spiritual and physically to be the best at who and what God has called them to be. It's all about love and service to God.
The dance worship mentoring is very much recommended and I learned things I can incorporate into my own ministry as well as the children's dance ministry."
LaShayla Cochran, Dance Coordinator for Freewill Worship Center, Goodwater, AL
"I recently got to see Denise present a piece that was self-choreographed to "Alabaster Box". She was able to take me as well as the others watching her, through space and time and use dance as an act of testimony and deliverance. I told God, what a wonderful thing He had done through her and then told her myself afterwards. It's always an honor and a treat to see a dance daughter, such as Denise, branch out on their own and carry the torch of dance ministry to touch others and cause a ripple effect in the Kingdom of God!"
Minister Jeanna Sumners
"Disciples of the Dance" – Author (Book)
Dance and Performing Arts Co. – Assistant Director
www.itsmyo.blogspot.com
www.dancediscipledevotionals.blogspot.com
Facebook: Disciples of the Dance
"My experiences under Sister Denise's mentoring classes were amazing!  I was so nervous and scared in the beginning.  She made me feel so calm and at ease.  She showed patience.  Her dedication to God also leaked out to dedication to me.  I learned a lot from her.  Sister Denise is a great Teacher and Woman of God!"
Bridgette Truss
Books:
"The Day I Danced under an Open Heaven" is easily one of the most NEEDED, penned work in the industry of the worship arts.  As I read the manuscript, I was moved to worship.  If you are ready for "on earth as it is in heaven"; for heaven to kiss earth in your life; apply the principles mentioned in this book and begin your journey to an earth-shattering, 1 Kings 18:36-39 kind of worship."  Paulette Rolle-Alesnik of "Dare to Dance Inc." Author-"Dare to Dance"
"In a day and time when people are searching for something higher than themselves in order to have a better quality of life, "Worshipping God-Serving God" is that something!  It is in worship that we bond and have intimacy with God.  Our worship has an effect on our serving!  Mary could get to what Martha was doing (serving), but Martha could not get to what Mary was doing (worshipping).  This book shows us the dynamics and power of our worship and serving.   DeForest Godfrey,  Assistant Pastor, New Beginning Ministries
In "So you say you can praise dance "My friend Minister Denise Cook Godfrey guides the reader through the foundations of effective dance ministry leadership. I love how she teaches in the text that the praise dancer must begin with a personal relationship with Jesus, private prayer, and private worship.  Then the dancer graduates to public dance ministry.
Jocelyn Richard
Author "Phenomenal Choreography For Worship"
Dance Minister, Speaker, and Ministry Success Coach  www.thepraisedancelife.com
"Drama in the Church?  (Tips for Writing and Directing Your own Gospel Stage Play)"
I took this course!! Awesome workshop…really good content by Denise Cook-Godfrey!! Wish I had taken it before I preformed my first stage play. Definitely will use it to help guide me next time!! Thanks Denise!
Beverly Powell
ALSO:  SIGN UP BELOW TO RECEIVE EXCITING NEWS FROM TIME TO TIME FROM OUR MINISTRY. YOU WILL BE ABLE TO OPT OUT AT ANY TIME!  ALL NEW SUBSCRIBERS WILL RECEIVE A COMPLIMENTARY GIFT (my first published work free in electronic form, or a copy of "Diary of a Praise Dancer" if you already have that publication)
[contact-form][contact-field label='Name' type='name' required='1'/][contact-field label='Email' type='email' required='1'/][contact-field label='Website' type='url'/][contact-field label='Comment' type='textarea' required='1'/][/contact-form]