Today is Monday, March 23, 2020. I would like to present a 5-day journey into the mind of Christ for this Corona virus situation!  About a week or so ago right before we received word of lots of shut downs and closures, the Lord gave me a dream in the 4th watch of the night.  If you have ever studied the night watches from a Biblical standpoint, then you will know that the 4th watch occurs between the hours of 3 am to 6 am.  In the dream I was at work. I was sitting at my desk and all of a sudden there was a very loud siren or horn sound that blasted through my computer!  I could not maneuver at all on the keyboard.  The system was totally frozen.  The sound of the alarm (that is what it appeared to be) was not all that I heard. I also heard chatter in the air from others yelling, "Go…go to your safe houses, go to your safe house!"  I quickly picked up my purse and some other things that were important to me and headed out of the door of my office. As soon as I was about to get to the exit door, I was stopped by a woman in authority who extended out her hand in authority as to say, "Stop!"  Get back to work."  Now there was another Lady standing beside the Woman in authority (that's how I perceived her).  This other lady at first was one of the ones yelling for me to go and get out.  Now she was in agreement with the Woman in authority.  I went back to my office.  The dream ended. The interpretation is that it is time to go back to work. To do the work of the Kingdom. See, the other lady who switched from saying "go to your safe house, go", to being on the side of the one in authority, represents the world without Christ.  See we as the Church, need to not be flip flopping between fear, panic, and faith!
Now, on yesterday, I was scrolling through Facebook and one of my dance Sisters posted a picture of Jesus with His hand extended out toward a large crowd of folks running as if to be in panic and war…she said that this is the picture that she saw in a dream!  Her dream was very similar to mine in that she interpreted her dream to mean that it was time to stop running and start praying against the virus!  I was astonished at this wonderful confirmation that God had truly spoken through my dream.
So…what are our take-a-ways on this 1st day of COVID Chronicles?  Well, I believe that God wants us to do two things and focus on those two things more than anything else.  Those two things are repentance and worship.  I know…sounds simple but believe me…it is profound!
On day #2, we will talk about repentance and how we can be sure that we are in alignment with the will of God for true repentance.
Thanks for reading!  Join me on tomorrow night!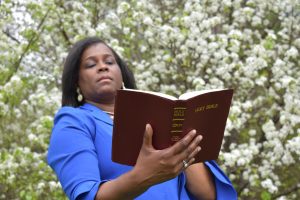 Denise Cook-Godfrey
Minister/Author/Playwright/Liturgical Dance Instructor
[contact-form][contact-field label="Name" type="name" required="true" /][contact-field label="Email" type="email" required="true" /][contact-field label="Website" type="url" /][contact-field label="Message" type="textarea" /][/contact-form]